Laptop display repair – We replace your defective screen
Laptop display repair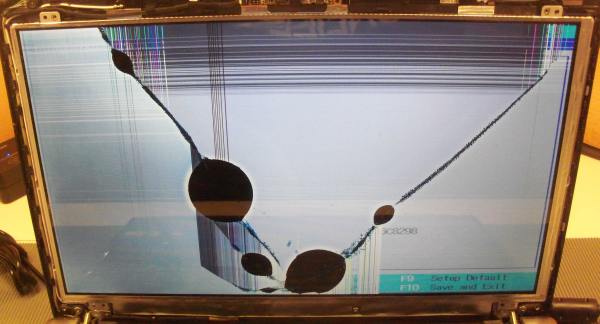 1. Take the battery out.
2. Take out the rubber parts so you can access the screw under it, then unscrew the screws mounting the frontcase/Bezel.
3. Unscrew the screw mounting frontcase of the screen in order to remove the frontcase in the next step.
4. Take a thin and small piece of plastic to remove the frontcase of the screen, do it carefully, because you can brea the parts holding the frontcase with the backcase.
Laptop display repair – replacing
5. After removing the frontcase, unscrew the screw of the screen holder to get access to the screws mounting screen/hinges.
6. Bend a little bit a screen holder to get to the screws mounting screen, which are located on the left and right side of the screen holder.
7. Put the foam on the keyboard, so when whe unscrew the screw mounting the LCD screen, we can put the screen on it so it won't be destroyed.
8. Unplug the cable on the right side and remove the tape that is securing the cable connected on the backside of the screen, then unplug this cable.
9. Take another replacement screen and put it like the previous screen, then connect 2 cables mentioned before.
10. Put the LCD screen in the right place in order to mount it in the screen holder, then screw on the screws on 2 sides.
11. Screw on 2 screws on the top of screen holder to mount the screen to the backcase of the laptop.
12. Put the frontcase of the screen on the backside and press it as it clicks so they will be attached.
13. Screw on the screws mounting the frontcase to the backcase in order to gain screen stability.
14. Put on the rubber parts on the right places, so the frontcase will be more ergonomic and good-looking.
Laptop screen repair costs are from 100 € until 180 €. When the Device has an Touchscreen than the costs are from 200 until 400 €.